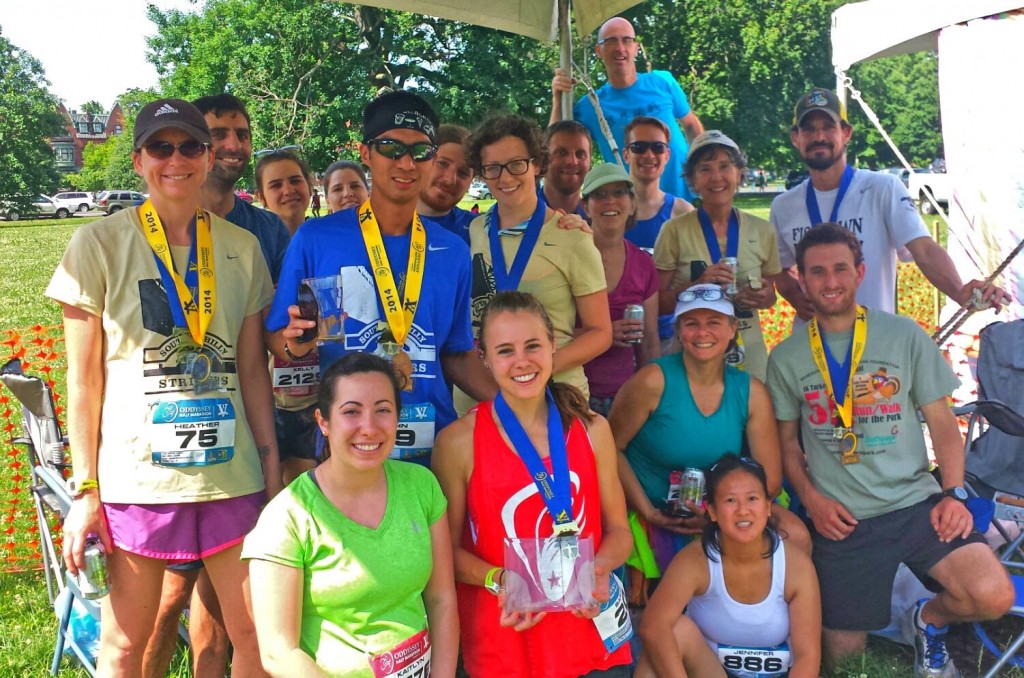 Broad Street Run – May 6, 2017: If you didn't get into the lottery, post on the SPS group page, and someone may be able to help you with a transfer.
Mayor's Cup Pep Rally Kick Off – May 10, 2017: The Mayor's Cup registration kicks off on Wednesday, May 10 at Morgan's Pier on Columbus Boulevard.  Run the Wednesday night bridge run at 6:30 and then proceed to Morgan's Pier.  There will be discounted registration for the Mayor's Cup.
Citywide Shakeout Run – May 11, 2017: Citywide run to celebrate the Broad Street Run sponsored by Run215, Philadelphia Runner, and ODDyssey Half Marathon.  SPS is a sponsoring club.  Meet for a run at 7th and Bainbridge at 7 p.m. for a run to Flying Fish Crafthouse (31st and Master).
Dirty German 25K/50K/50 Mile – May 16, 2017: 25K/50K/50 Mile trail race at Pennypack Park. Great introduction to trail running and ultras.
Run to Rebuild 5K Run/2 Mile Walk  – May 20, 2017:  5K and 2 mile walk at Forbidden5K be Drive benefiting Rebuilding Together Philadelphia, whose  mission is to bring volunteers and communities together to improve the homes and lives of low-income homeowners.
Bethany's Walk and 5K Run for Children – June 3, 2017: 5K at two locations (Fort Washington, PA and Mount Laurel, NJ). Bethany has been protecting vulnerable children and their families in the Greater Delaware Valley for 37 years by providing adoption services, foster care, free pregnancy counseling, trauma-informed post-adoption counseling, and Safe Families for Children.
PA Rhino Conservation Advocates Run for Rhinos 5K – June 4, 2017: 5K at the Philadelphia Zoo, which raises money to support PARCA's mission to prevent extinction of the rhino.
StopChildhoodPain 5K Walk/Run – June 10, 2017: 5K at Cooper River Park in Pennsauken, New Jersey, which raises money for the Children's Hospital of Philadelphia AMPS program.  Zoo admission for the day and a race T-shirt are included in your registration.
Gary Papa Run – June 18, 2017: 10K and 5K on Benjamin Franklin Parkway and Martin Luther King, Jr. Drive benefiting the Foundation for Breast & Prostate Health
Pottstown Half Marathon – July 15, 2017: Half marathon beginning and ending at the Sly Fox Brewery in Pottstown.
Mayor's Cup – August 12, 2017: Sign-ups start at the kickoff on May 10, 2017.
Rock 'n' Roll Philadelphia Half Marathon and 5K – September 16-17, 2017: The largest and fastest half marathon in Philadelphia, with a 5K on Saturday.
Miles for Migraine – October 7, 2017: Walk/ 5K/ 10K Run and Kids Treasure Hunt in Wissahickon Park along Forbidden Drive, which is a Fundraiser for Migraine & Headache Awareness, Treatment & Research.